Summit Leadership Excellence Program
ACCELERATING THE DEVELOPMENT OF CRITICAL MANAGERS
The Summit Leadership Excellence Program™ is built especially for innovation-driven organizations seeking to transform their critical high potential managers into collaborative, strategic leaders. Quickly and more effectively than other programs, we can help you build a robust team of confident, conscientious leaders who can inspire and engage.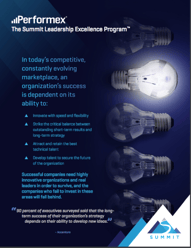 View Program Brochure
Upcoming Summit Immersion Workshop Dates:
Atlanta, GA
March 2-4, 2021
May18-20, 2021
August 24-26, 2021
November 2-4, 2021
The Summit Approach
12-month process
3-day immersion workshop
1-day influencing workshop
360 degree multi-rater assessment
Ongoing certified Performex coaching
14 check-ins for ongoing learning with executive coaches
A Methodology that Delivers Real Results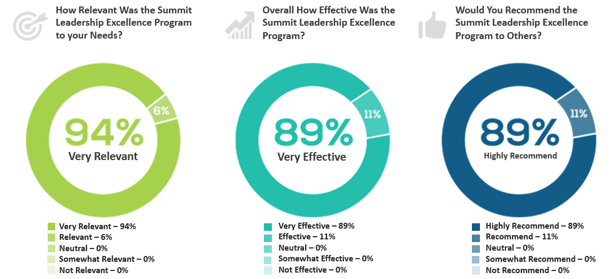 12-Month Program Enrollment: $9,795 - volume discounts are available
Testimonials:
"Amazing program… I've been looking for this type of program for a decade. The ongoing coaching, year-long time frame, company commitment and tenure of the coaches make this a unique and valuable program."
– Client VP of IT, Financial Services Industry
"Thank you for one of the most impactful experiences of my life. Your Summit™ sparked in me a different perspective on leadership and restarted my passion for why I wanted to be a leader."
- Client Software Engineering Director
"I want to take the time to thank you for an extremely powerful experience. The passion and devotion of the individuals facilitating was more than evident this week."
- Client Sr Director of Marketing
"This program not only gave me the confidence I could be great – it equipped me with concrete tools that have helped me "get it done"! I'm now a mentor in my organization for leadership! "
- Client Plant Manager
"Great program, and I have learned a lot. This is the type of development I personally need to reach the next level."
- Client Human Resource Director of People Rewards
"This is a great program (essentially a requirement) for any managers within the organization. The value gained will return value 10 fold."
- Client Senior Finance Manager