DO YOU EVER SEE THESE ISSUES WITH YOUR MANAGERS?
How much are these issues costing your business?
Ineffective management hurts business results, employee engagement, and retention. Today's unique virtual work environment can slow down a team's performance even more.
Have you ever dreamed what your company could achieve if ALL your managers performed like your BEST ones?
If so, it's time to find a coach. The truth is, EVERYBODY needs coaching to optimize performance. In a 2019 poll, we asked executive leaders what their team's biggest need was. Two out of three said "leadership coaching and development."
Help your managers reach Peak Performance with Performex Acceleration Coaching,™ the proven methodology that we have used for decades to accelerate results for critical leaders at all levels.
Why Performex?
THE BOTTOM LINE: We utilize a unique combination of tools and techniques to provide your company and manager with a QUICK and LASTING WIN at an all-inclusive price far below what other executive coaches will ask.
Exceptional Assessments. Performex is a licensed practitioner for the CPI 260 Leadership Personality Test, one of the most comprehensive leadership assessments available. This combined with the proprietary Performex 360 Multi-Rater Survey provides clear insights for improvement opportunities.
Manager Input. Performex coaches interview the participant's manager for valuable feedback and to ensure the client company's objectives for the program are met.
Development Plans. Custom Leadership Development plans are created by the participant and coach with business impacts included.
Alignment. Once development plans are made, an Alignment meeting takes place between the Performex coach, coaching participant and manager to review development plans for alignment and approval.
Coaching. Coaching sessions occur throughout the program to ensure the participant is on-track for his or her plan, to review progress, and to address any obstacles to excellence.
Unlimited On-Demand Consulting™. In addition to coaching sessions, participants have unlimited access to their Performex coach and team for any additional needs that arise. Your participant will literally have unlimited access to a consultant at his or her fingertips throughout the program!
Growth Touch Points™. Unique Growth Touch Points™ grow awareness, foster ownership, and support learning and behavior changes in between coaching sessions.
Performex Acceleration Coaching Programs at a Glance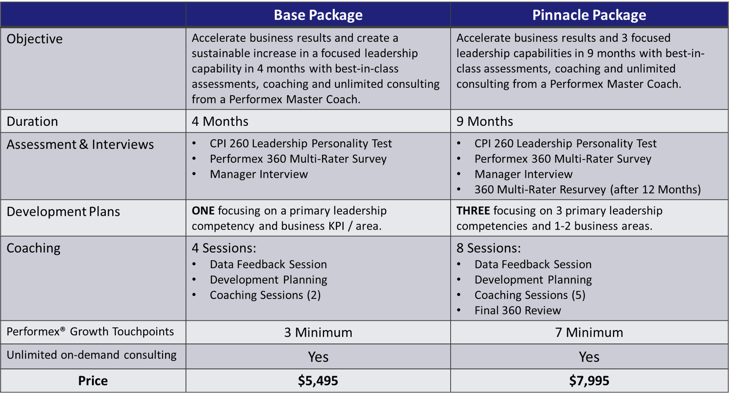 Don't see exactly what you need?
Every manager has unique strengths and challenges, so we also work directly with HR representatives to customize program length, assessments, and number of coaching sessions to build the program right for your managers.
DON'T WAIT TO ACCELERATE GROWTH!
Receive 10% off your coaching package if you register before September 1.
or Contact Us to learn more
THE PERFORMEX® DIFFERENCE
For more than 40 years, Performex® has had one focus – transforming critical managers into real leaders. Contact Kristi Tjo at ktjo@performex.com or +1 (855)-739-5323 to achive Peak Performance today and see the Performance Difference for yourself.